Featured Exhibit & Programs
Featured Exhibit & Programs

Thank you for considering bringing your class to Sloan Museum, Longway Planetarium or Buick Automotive Gallery! We have a wide variety of classes that will fit the GLCE's for your classroom. If you need history, science or social studies, you've come to the right place.
Reservation Line: 810.237.3409
Click here for our Online Interactive Education Guide or download the Guide in PDF.
Bring your students to Sloan Museum and let them explore the current touch-friendly exhibit and a class listed below.
Fall Exhibit and Programs

In The Dark exhibit
September 17-December 30, 2016
The dark—a place of mystery. Sometimes scary, but always intriguing, darkness beckons exploration and represents the unknown. But it's also a natural evolutionary selective pressure that has caused plants and animals to adapt to ecosystems like caves, the deep sea, the forest at night, and underneath the ground.
Since prehistoric times, humans have sought to find utility in darkness, and have invented ways to acclimate to dark conditions. In In The Dark, guests experience and explore these mysteries via electronic, mechanical and computer interactives, immersive dioramas, and lifelike models.

Field Trip Programs
Owl Pellets (1 hour)
Students will investigate the physical adaptations that make owls successful nighttime hunters. Working in pairs, kids will dissect an owl pellet and classify and organize the bones they find, while exploring how energy moves through food webs. NGSS: 3-LS4.C, 4-LS1.A, 4-LS1.D, 5-LS2.A

Worm Motels (1 hour)
Work in groups to design and build a temporary worm habitat to take back to the classroom! Learn how worms are adapted for life in the dark underground and how they sense their environments. Observe the worms in the classroom to see how they change their environments over time. NGSS: 2-LS4.D, 3-LS3.A, 3-LS3.B 3-LS4.C, 4-LS1.A, 4-LS1.D, 5-LS2.A

Animal Adaptations Exhibit Walk (1 hour)
Explore In The Dark with a Sloan*Longway educator and learn about animals in different parts of the world, and the body parts that help animals see, hear, move, and get food. Gather information from exhibit labels, make observations of exhibit components and models, and work together to organize ideas in a concept map to take back to school. Finish the exhibit walk with a hands-on activity. NGSS: 1-LS1.A, 1-LS1.D, 2-LS4.D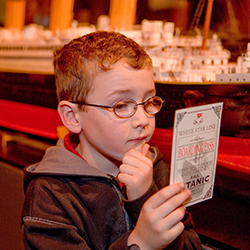 Winter Exhibit

Titanic: The Artifact Exhibition
January 21-May 21, 2017
Titanic: The Artifact Exhibition takes you on a journey back in time to experience the legend of Titanic like never before. The galleries in this fascinating Exhibition feature over 100 real artifacts recovered from the ocean floor along with room re-creations and personal stories; each highlighting a different chapter in the compelling story of Titanic's maiden voyage.
Cost for students to visit this exhibition is $X per student, $X for adult chaperone.
Call 810-237-3409 to book your field trip.