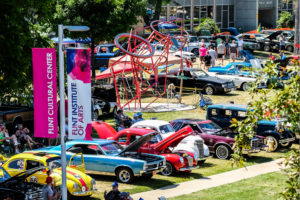 Sloan Museum Auto Fair

Save the Date! June 24 & 25, 2017
Event Time: Saturday 9-5 p.m. & Sunday 9-3 p.m.

As a fundraiser for the Sloan*Longway Collection, this event is a fun-filled two-day show with plenty of music, entertainment, vendors and of course, automobiles! The Flint Cultural Center campus becomes home to more than 600 of the best looking cars, trucks and motorcycles around. Vehicle registration at 8:00am. The visitor gates open Saturday and Sunday at 9 a.m. Come back on Sunday at 9 a.m. to see everything you missed on Saturday and find out who won awards! Ticket are $7 adult, kids age 11 and under are free. This allows you to wander among an amazing automobile show. Enjoy feature cars, exhibits, kids activities, music and much more! Entrance to the Sloan Museum and Buick Automotive Gallery included with your admission fee.

FEES: Display Only Vehicles (non-judged) $15 if registered by June 15, $20 day of the show. Register online or download the form. (NOTE: there is a fee of $2 for registering online.) Judged vehicles $20 if registered by June 15, $25 day of the show.
Treasures in the Meadows– Located in the shade/grass area behind the Sloan Museum. Four categories: Automotive, Antiques & Collectibles, Arts & Crafts and Vehicles for Sale. More details. Questions about being a Vendor? Call Dan Bower at 810.938.8046 or send an email beatleboots1949@comcast.net.
One Cruise-In this year: Friday, June 23 at the Flushing A in Flushing, from 5pm until 8pm. Please note: There is not an organized cruise to or from the Flushing A. Everyone please gather and enjoy a wonderful night of beautiful vehicles.
For more information on this year's event:

Call – (810) 237-3450 #5

Email – marketing@SloanAutoFair.org.

Website – SloanAutoFair.com.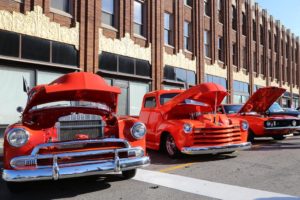 Enjoy five days of automotive excitement at the annual Back to the Bricks Cruise and Car Show happening every August. For more information, visit the website at hereBackToTheBricks.org.
Read more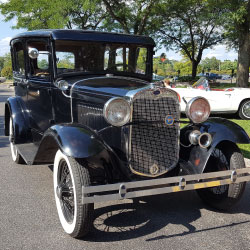 Golden Memories

Date: Sunday, September 17, 2017
Time: 10:00-4:00 pm
Free event

A very special event exclusively for original or authentically restored vehicles produced in 1966 or earlier. The Golden Memories Automobile Gathering is sponsored by Friends of Sloan*Longway, making it free to exhibitors and attendees. We welcome all authentic and original automobiles 1966 and prior. No visual modifications are allowed.
Registration takes place between 9:00 a.m. and 12 noon the day of the event. Driver and one passenger will receive free admission to the show grounds, Sloan Museum, Buick Automotive Gallery, and 10% off all Sloan Museum Store purchases. Dash plaques to the first 200 vehicles.

The show is free and open to the public to walk among the vehicles. If visitors wish to also see Sloan Museum or Buick Gallery, regular museum admission is charged. This event is non-competitive, so there will be no judging, just a relaxing day with friends and fellow car enthusiasts who love well preserved and restored automobiles. Lottery drawing for the dash plaque vehicle of the 2017 show. Special recognition and a pass in review for vehicles celebrating a 50, 75, and 100 year anniversaries.

Congratulations to our 2017 dash plaque featured vehicle: 1930 Ford A owned by Jim & Jackie Booth of Davison.
For more information, contact Sloan Museum at 810-237-3450 or Devin Shaw at 810-577-6926, or send an email .